I'm excited to present to you ...
Our 2011 Christmas Cards...
Thank you for all of your input when I
asked about which card to pick
. A lot of you suggested combing the design of one with the images from the other so that's what we did!
And I really like how it turned out!
The pictures are from:
Salt Lake City ski trip
in February, my
Hollywood company party
in June, a
USC Alumni brunch
in July, and my
Brother-in-Law's wedding
March.
I've got Christmas Card assembly down to a science. Look at the Mr. working away!
I'm glad we got them out early this year. One thing out of the way!
Are you doing Christmas Cards this year? Have you gotten them out yet?
I'm linking with with
Faith
and the
Christmas Card Carousel
.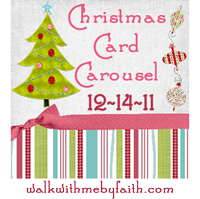 Visit Faith's blog to see lots more Christmas cards!